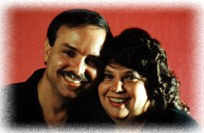 David Carranza received his Bachelor's Degree of Music/Music Education from the University of North Texas. As a Certified Teacher, he uses the Puppetry Arts as his medium for teaching.

Carol Carranza is an artist. She studied art with the late Jeannine Campbell. Carol designs and paints the backgrounds and sets, and she also designs and sews all the beautiful costumes. Together they write the scripts for all their productions.

The Carranzas delight in working with children in the schools. They enjoy bringing Children's Literature to life for them through their Puppetry Arts.

Mr. and Mrs. Carranza started out in puppetry as a hobby in 1977. They are founding members of the Greater Houston Puppetry Guild, and they are also members of the Puppeteers of America and the Houston-based Performers Guild. They have performed at a National Puppeteers of America Festival in Tahlequah, OK, and at three Regional Puppetry Festivals in Austin, TX, New Orleans, LA, and Addison (Dallas), TX.
They are also honored to be selected as a Touring Artist Company by the Texas Commission on the Arts, and were selected to showcase their production of "Pinocchio" at the 4th Cultural Connections Conference of the Texas Commission on the Arts in Austin, TX in August, 1998.